Arjun Tendulkar, son of legendary batsman Sachin, rolled his arm over to English batsmen ahead of their second Ashes Test against Australia at Lord's.
While Arjun accompanying his father to Team India nets was an usual affair but his presence during England's net session came as a surprise.
The teenager, tipped by Wasim Akram to have a big future in the game, was pictured in action against Ben Stokes in the nets at Lord's.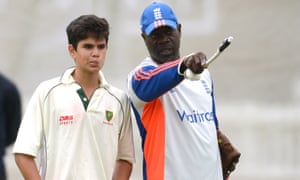 Arjun Tendulkar takes some advice from England bowling coach Ottis Gibson.
The Pakistani legend recently gave the budding left-arm medium-pacer some tips about the art of bowling. "I told him a little bit about fitness, on wrist positioning and I explained to him how to bring the ball back onto the right-hander. He had a lot of questions for him and is very passionate about the game, and that is always a good sign.
More details about Arjun's appearance at the Lord's were given by top cricket website espncricinfo.
"The Tendulkar family have an apartment not far from Lord's which they often use at this time of year – Sachin was a spectator at Wimbledon a few days ago – and where once Sachin was a regular visitor to the MCC Academy, now it is Arjun in the nets and gym at the ground.
Neil Burns, the former county keeper who now mentors several players and is a friend of the Tendulkar family, made the initial request. Burns asked Paul Farbrace, the England assistant coach, if Arjun could watch training on Tuesday and then if he could participate on Wednesday.
While most of the England players had no idea of the surname of the young net bowler, several chatted to him and were surprised when they realised his young age. While not quite ideal preparation for the left-arm pace of Mitchell Johnson, Arjun is impressively sharp for one so young and maintained an admirable, probing length from a pleasing action throughout the session. At the end of it, Farbrace  could be seen congratulating him and Arjun shook hands with several of the England players and coaches.
"Arjun is  a regular user of the facilities here," a spokesman for the MCC, who usually arrange net bowlers ahead of international games at the ground, told ESPNcricinfo. "So he was invited to bowl against the England team in training today."
Comments
comments